Who is Katya Hutter? 
Katya Hutter is a floral designer based in Amsterdam specialising in creating luxury and artistic floral decors for private clients, weddings & events, and the fashion industry. Her style is lush, abundant, and surprising. Her flower arrangements are seasonal and nature-inspired, with an artistic flair. Katya is greatly inspired by the wonder and beauty of nature. Over the years we have worked closely with Katya and she has become more than a customer but also a very dear friend to the Parfum Flower Company team. Hosting many floral workshops at our Fragrant Garden in Aalsmeer. You can read more about Katya by following this link, Katya Hutter Floral Design.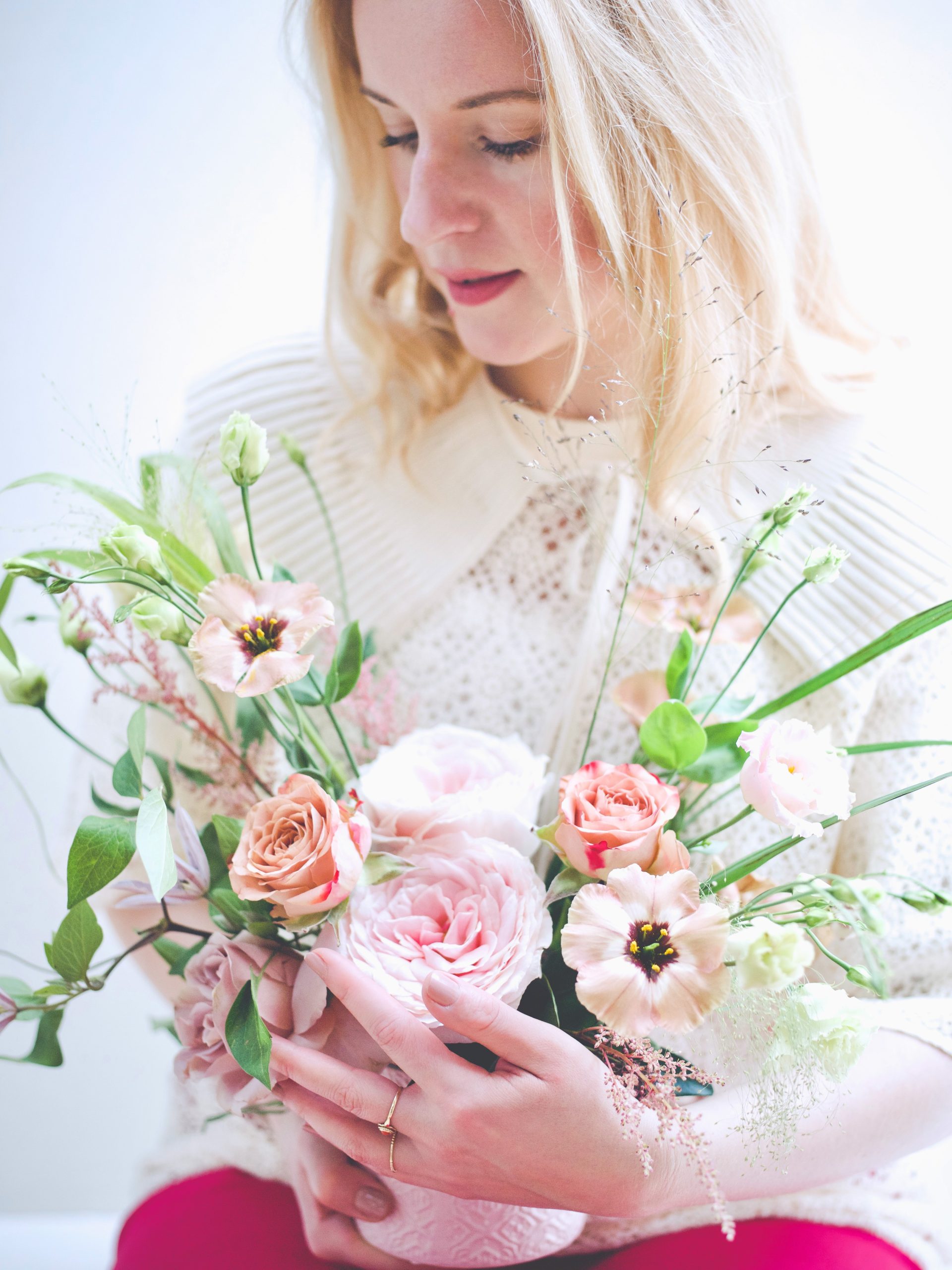 What is the Fragrant Garden? 
Located in what is known as the floral capital of the world, Aalsmeer. You'll find a truly enchanting venue for floral workshops housed within a greenhouse. This captivating space serves as a haven for flower enthusiasts. The greenhouse provides an ideal setting for immersive floral classes. Where attendees can immerse themselves in the art of arranging exquisite bouquets and learning the secrets of floral design.
This intimate space provides the perfect ambience for hosting floral classes. The kitchen feel allows participants to engage with the beauty of the flowers while savouring refreshing beverages. Whether you are a seasoned florist or simply have a passion for the floral arts, this venue offers a captivating environment that nourishes creativity.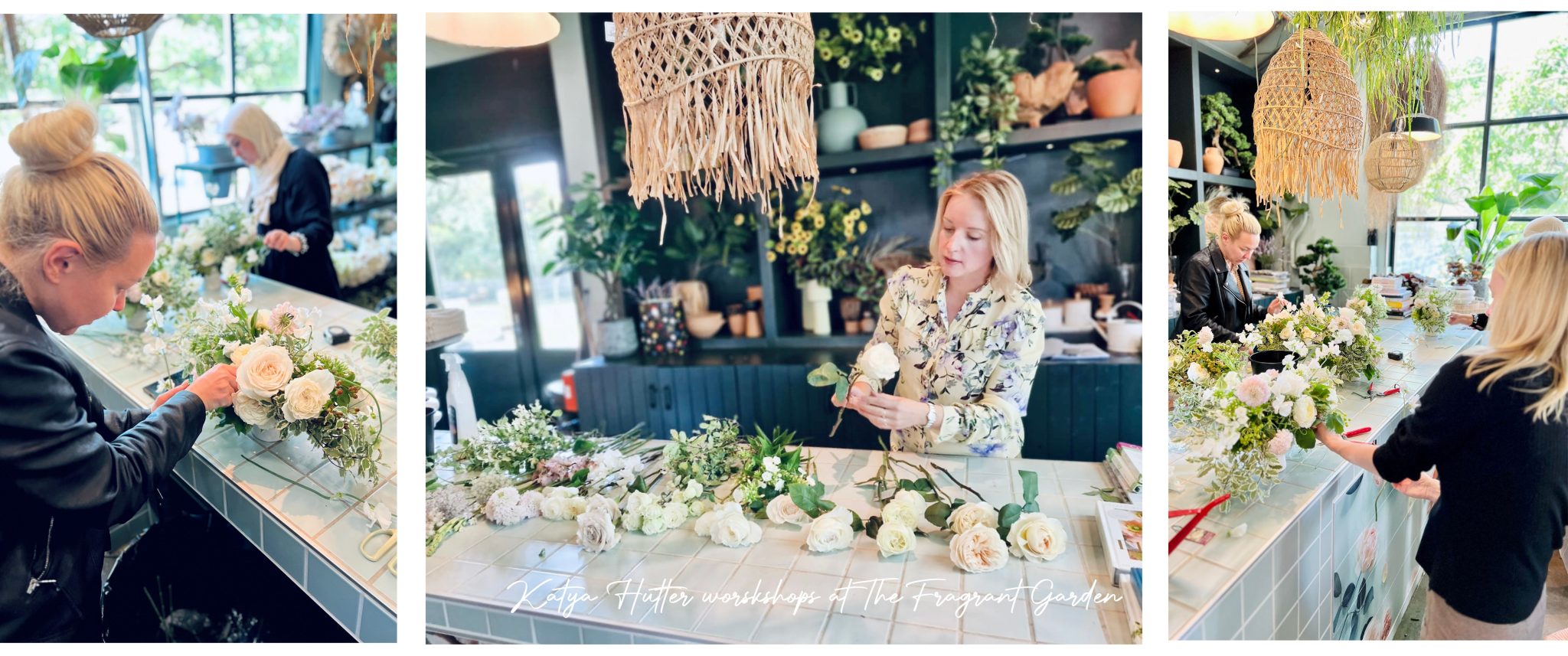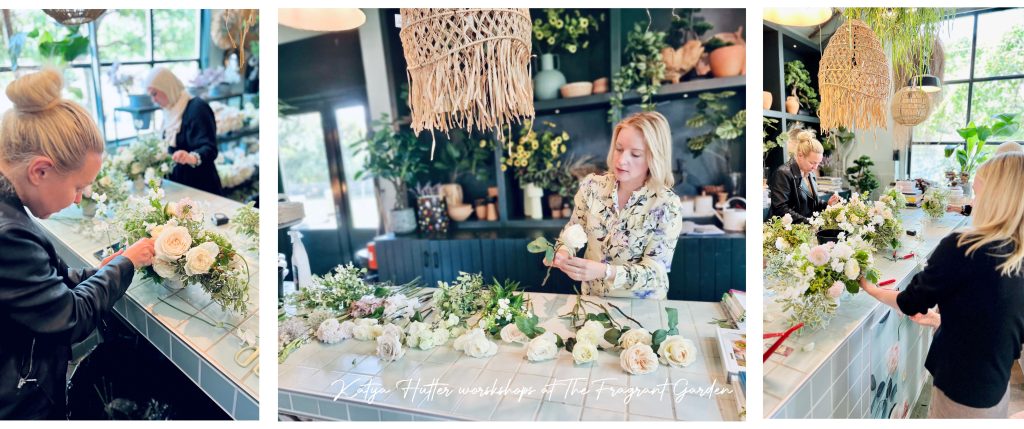 Who is Parfum Flower Company?  
Parfum Flower Company is a renowned company specializing in sourcing and distributing the most beautiful roses in the world.  With a passion for exquisite roses, we have dedicated ourselves to selecting roses that not only captivate the eye with their beauty. But also enthral the senses with their delightful and unique fragrances. We take great pride in our unique collection of rose varieties. To achieve this each rose is carefully chosen on the following criteria – colour, fragrance, and or uniqueness. Lastly, our commitment to sustainability, quality and innovation has earned us a prominent place in the floral industry. As a result, we have become known for providing top-quality roses to floral designers, event planners, and rose enthusiasts around the world.  
And now you can see the reason why they come together to form the perfect recipe for floral workshops!
Katya's June Workshop
This workshop was designed for floral enthusiasts, aspiring designers, and those seeking to expand their knowledge of unique techniques. Meaning it was perfect for individuals who were craving to dive into the world of exquisite garden roses and discover the art of sustainable wedding design.
The June floral workshop in Aalsmeer was an absolute delight! The attendees had the incredible opportunity to work with the most stunning roses: Japanese garden rose Princess Miyuki, luxury roses White Cloud and Westminster Abbey, the breathtaking new variety from David Austin Wedding Roses, called Bessie, as well as their superstars Patience and Leonora.
But that's not all – the team also explored an array of other exquisite blooms, like unique white clematis, tuberose, scabiosa, phlox and different sweet pea varieties.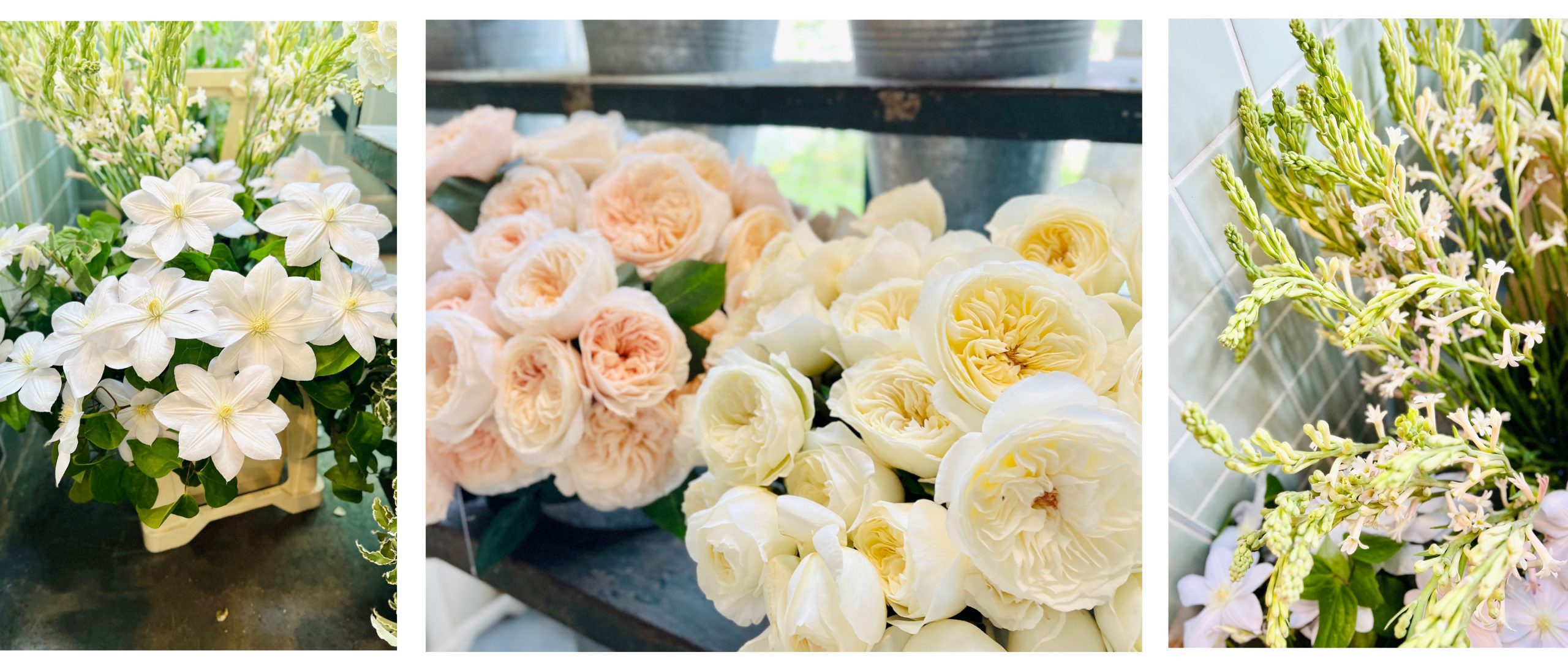 We caught up with a very busy Katya for a Q&A to learn a little bit about her and her workshops.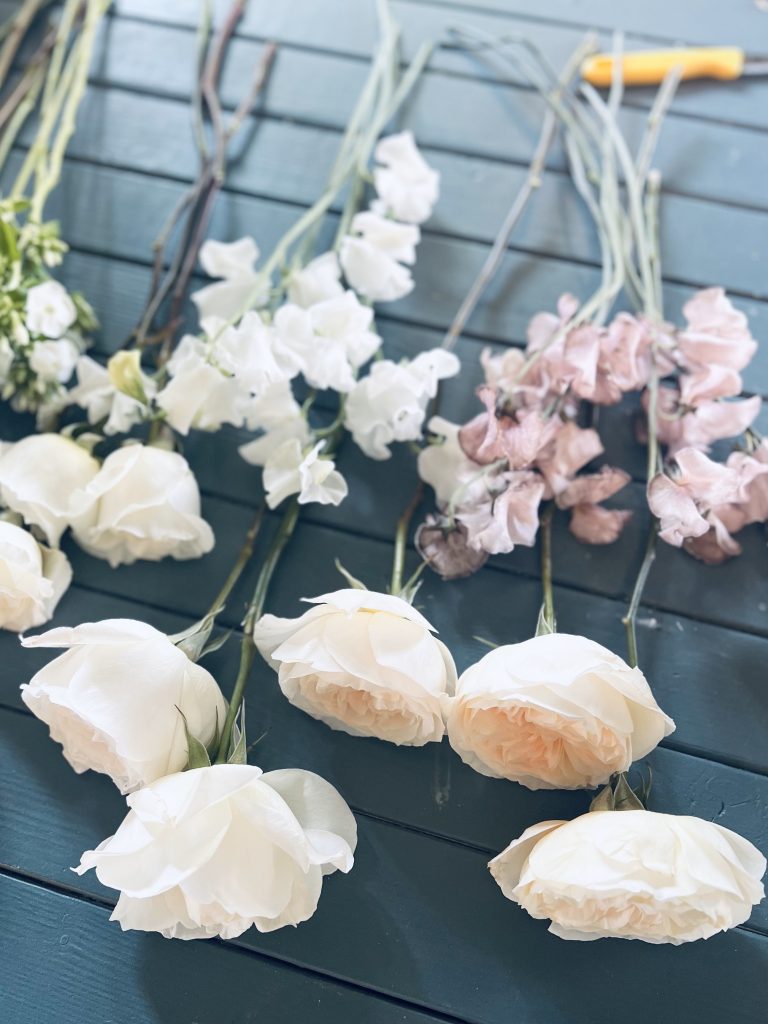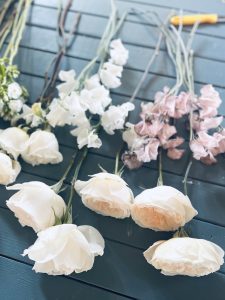 Q. Approximately how many garden roses did you use and how many flowers did you use?
A. I used approximately 500 garden roses, including David Austin Bessie, Patience, Leonora, White Cloud, Westminster Abbey, Princess Miyuki, and White Blanch Spray. In addition to the roses, there were about 700 supporting flowers used including white clematis Amazing Vienna, phlox, scabiosa, daucus, sweet peas, sweet pea vines, as well as viburnum opulus and two varieties of pittosporum. We also sourced tuberose from the best Dutch supplier Marginpar.
Q. What gives you the inspiration for your designs?
A. My clients often bring forth nice ideas, which we further explore together. I find inspiration in the location itself, as I believe it is important to create floral designs that complement the surroundings where they are presented. Combinations of flowers and colours serve as a great source of inspiration for me, as well as discovering new techniques and ideas along the way. Additionally, I have a few favourite floral designers whose work also inspires me.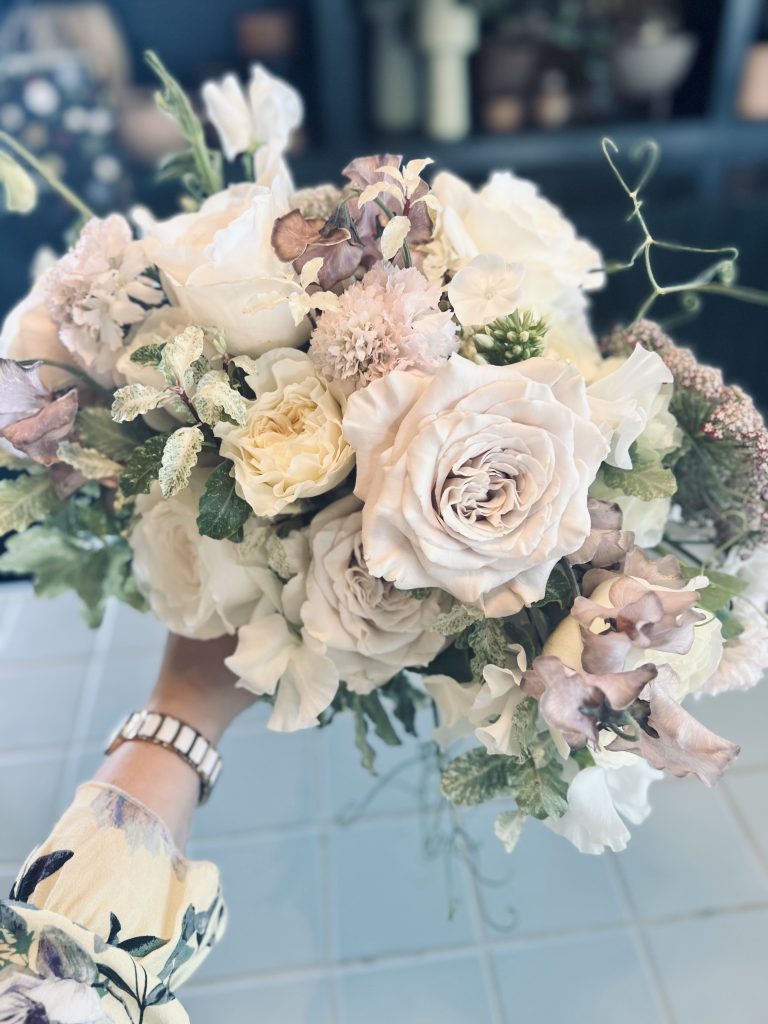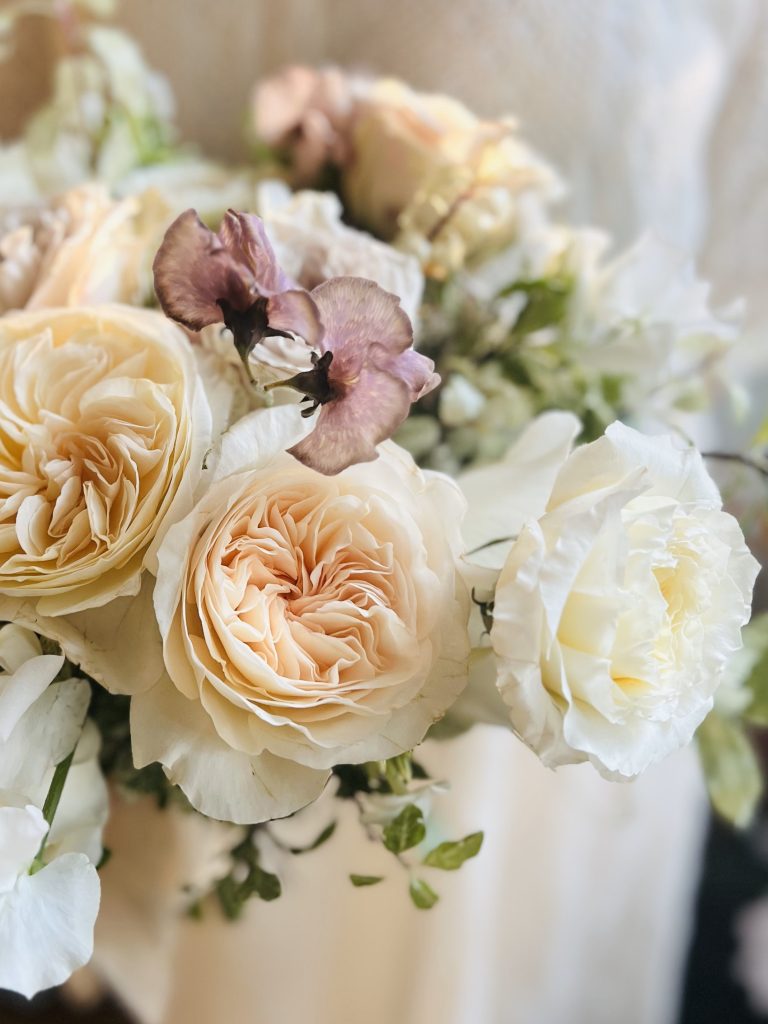 Q. You always get our roses looking stunning – would you mind giving us your care and conditioning tips?
A. Thank you for the compliment!
The key is to order and condition the roses in advance, allowing them ample time to bloom. I follow the care and conditioning guidelines provided by Alexandra Farms and David Austin, which have consistently yielded excellent results.
It is advisable to order the roses at least 2 weeks ahead of time, pick them up or have them delivered 4 to 5 days before the event, and promptly give them proper conditioning. Allowing the roses to fully open before working with them is crucial. There is no need to worry, as long as you use professional flower food, ensure proper mechanics, and spray them with Finishing Touch or a similar solution, the roses will remain in perfect condition throughout the wedding or event. I have tested this method countless times, and it has always been successful. In fact, my clients have expressed astonishment at how long the flowers continue to flourish even after the event. However, I always remind them that wedding and event flowers are primarily intended for the day of the occasion
Q. What is the hardest part of your job?
A. During workshops, it can be challenging to cover all the theory and practical aspects within a limited time. As someone who is passionate about my work and eager to share knowledge, I often find myself providing a wealth of information to my students. Time seems to pass quickly, and fitting everything I want to share can be difficult. However, I usually manage it well, and we often find ourselves staying a bit longer for additional Q&A or to complete certain tasks.
In my work with weddings and events, one of the most challenging aspects is logistics. Venues are sometimes located in different places, and we have limited time to set up or repurpose the floral arrangements. Additionally, working on weddings and events requires long hours, typically ranging from 12 to 15 hours a day. So, I would say that time management is the toughest part, ensuring that everything is done on schedule. Nevertheless, I usually succeed in meeting these challenges.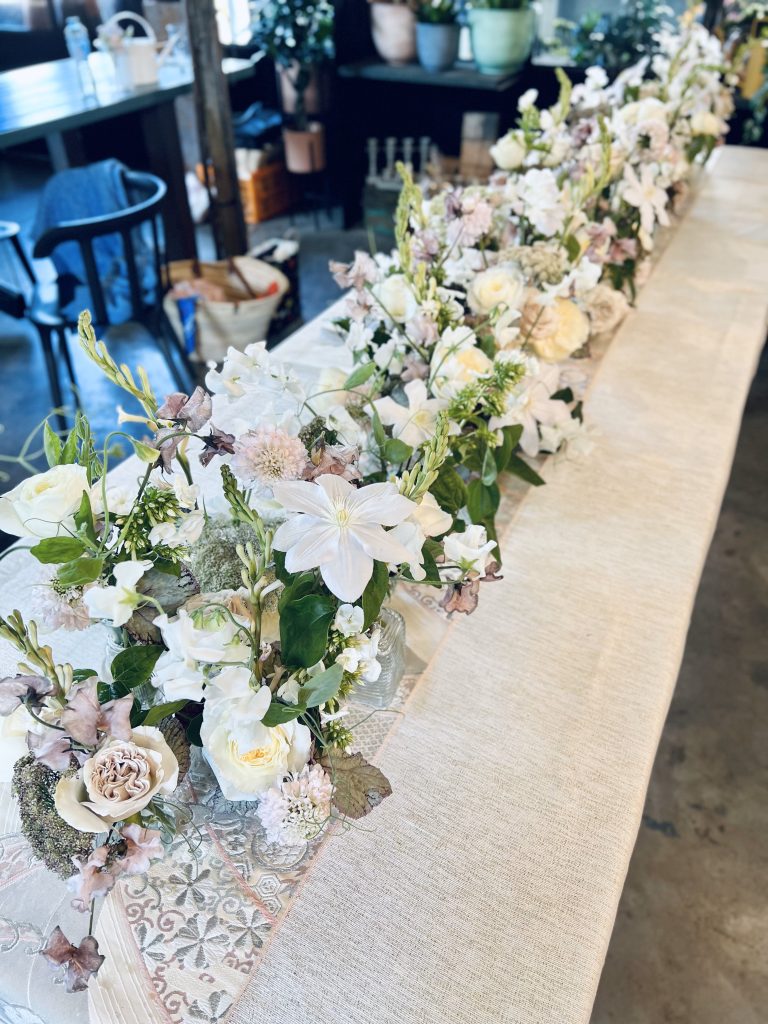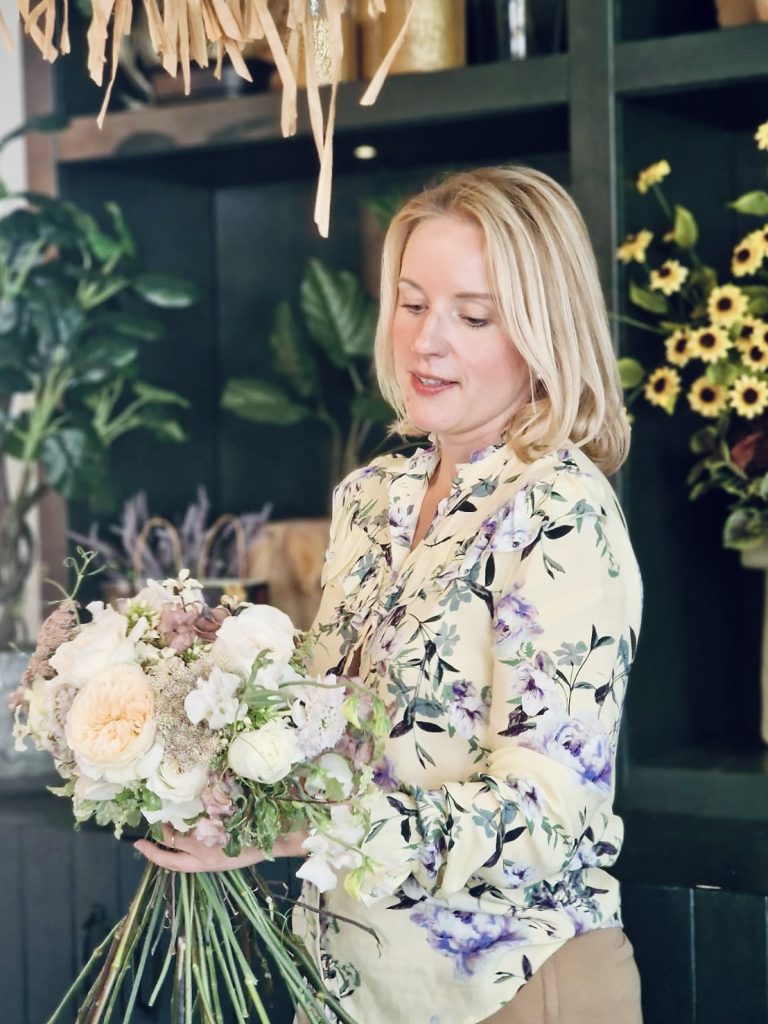 Q. What makes you nervous?
A. Haha, let me think! When I work with flowers, I often enter a flow state where my mind is a combination of tranquillity and adrenaline, fully focused on completing the work within the designated timeframe. During the actual process of working with flowers, I don't usually feel nervous. However, there are moments during pitching or while developing a floral design plan where I may experience some nervousness. It's natural to feel uncertain about whether a client will appreciate my proposal or if I will succeed in winning a pitch.
Q. We saw you worked with David Austin Wedding Roses newest cut rose variety, Bessie, what did you think?
A. Yes, I did like to work with Bessie. The vase life was quite good too. It lasted a bit shorter compared to Patience. I recently wrote a post about her: "This is Bessie, the stunning new variety of David Austin Garden rose that showcases an incredible appearance. Her rosette is delightfully full and gorgeously open, while her colour mesmerizingly transitions from cream to peach, creating a captivating play of hues. Working with Bessie has been an absolute pleasure. In my opinion, she embodies a sense of romance, luxury, and royalty, yet she retains a pure and innocent charm."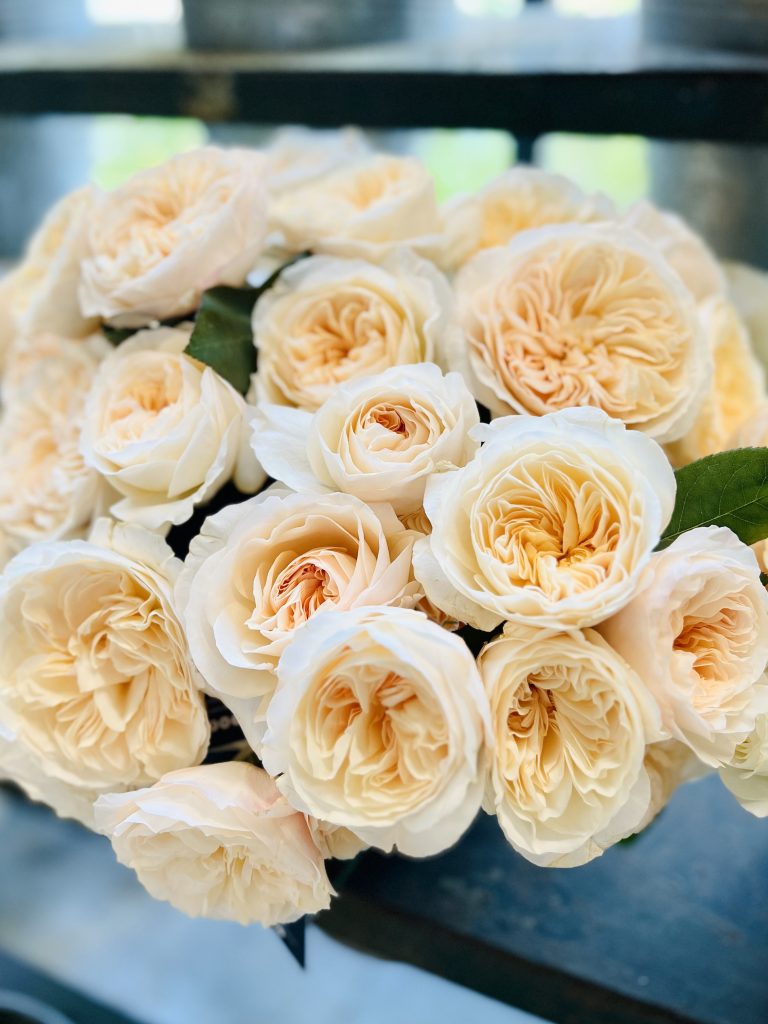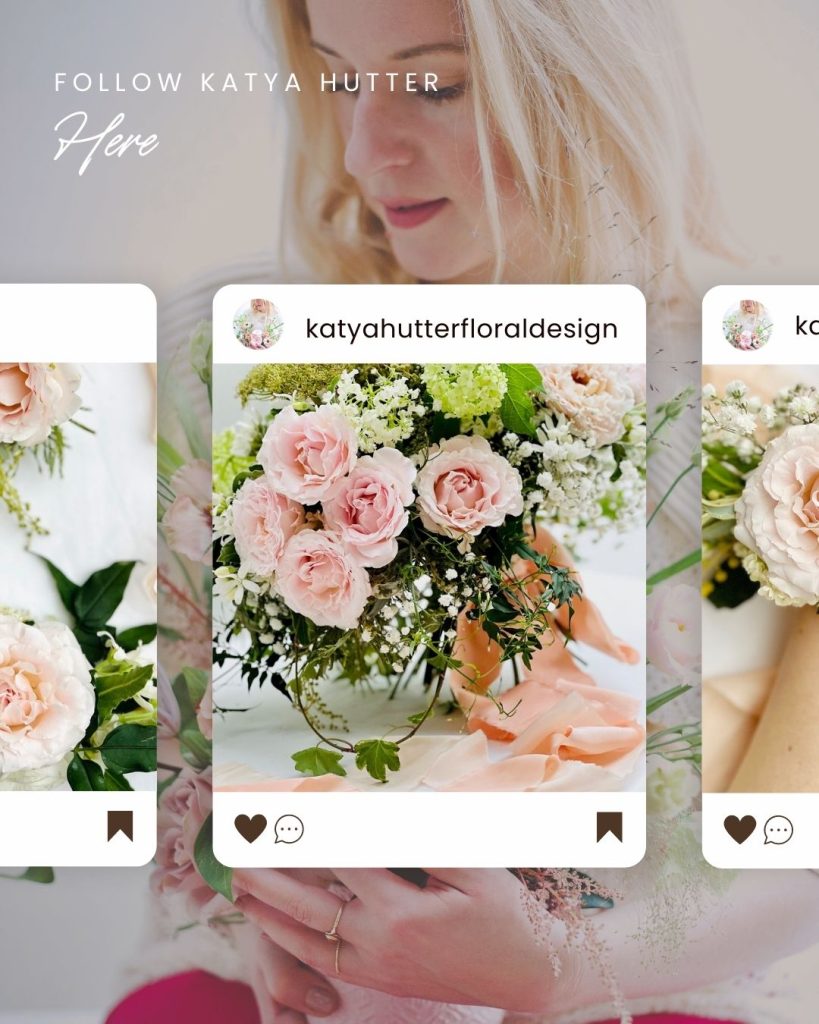 Q. Do you have any idea when your next event will be?
A. We've recently experienced a busy period filled with several weddings, a luxurious bridal event, a styled photoshoot, and a two-day floral workshop. This week, I'm taking a break and will begin working on the next exciting wedding next week. My floral workshops are often arranged in a spontaneous manner, based on the level of interest of students who wish to participate. I hope we can organise the next workshop in autumn, following the hectic wedding season.
Please follow Katya on her socials where she always announces her classes early.
Thank you so much Katya for your honest and open answers and for sharing your advice on caring for cut garden roses. We really appreciate it and we're sure a lot of our audience will too.
If like Katya, you'd like to host a workshop or event at our Fragrant Garden, please contact us.
Finally, just in case you missed the link earlier and you'd like to join one of Katya's Floral Workshops please check out her Instagram account.
Thanks for reading, we'll be back soon