Trade shows…there are so many! And they are literally all around the globe. Tomorrow is the start of a new edition of the Philadelphia flower show in the United States, but there are many more trade shows – from Ecuador to Germany – that are worth your time. But which are the ones should you definitely attend? We have listed 10 of the most important trade shows for florists below!
Philadelphia Flower Show, United States
Each year, PHS produces the Philadelphia Flower Show, America's largest and longest-running horticultural event, which features stunning displays by the world's premier floral and landscape designers. Started in 1829 by the Pennsylvania Horticultural Society, the Show brings together diverse people and organizations to introduce the newest plant varieties, garden and design concepts, and organic and sustainable practices.
The Philadelphia Flower show takes place this year from March 2-10. For more information visit www.theflowershow.com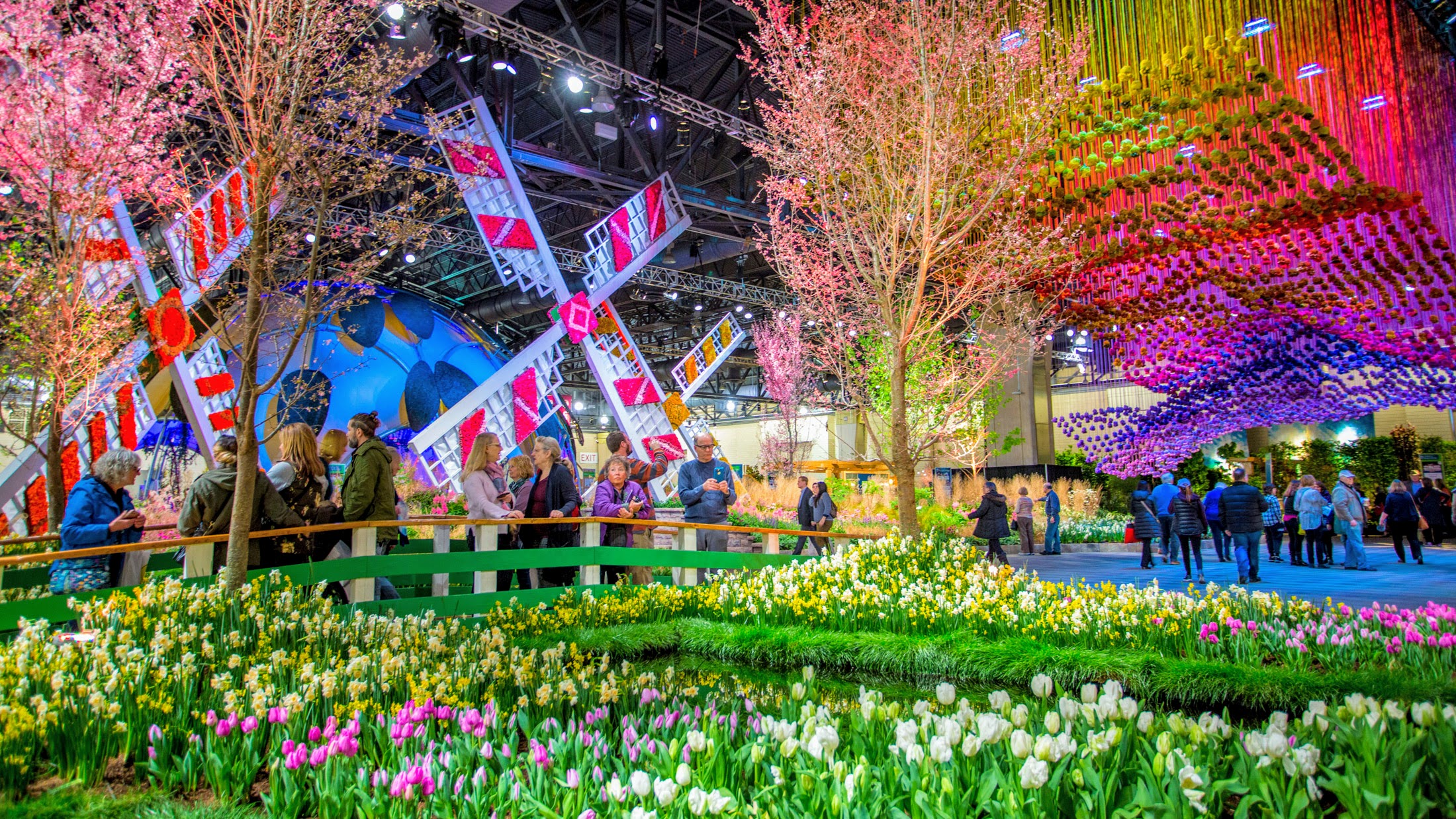 Chelsea Flower Show, United Kingdom
The RHS Chelsea Flower Show, formally known as the Great Spring Show, is a garden show held for five days in May by the Royal Horticultural Society (RHS) in the grounds of the Royal Hospital Chelsea in Chelsea, London. Held at Chelsea since 1912, it is the most famous flower and landscape gardens show in the United Kingdom, and perhaps in the world. The show is attended by members of the British Royal Family and attracts visitors from all continents.
Highlights to the Chelsea Flower Show include the avant-garde show gardens designed by leading names with Floral Marquee at the centerpiece. The Show also features smaller gardens such as the Artisan and Urban Gardens. The Chelsea Flower Show will be held from 21-25 May, 2019. For more information and tickets www.rhs.org.uk/shows-events/rhs-chelsea-flower-show
International Floriculture Trade Fair, The Netherlands
The IFTF offers a platform for companies in the floral industry to meet. Growers, importers, wholesalers, and florist from all over the world come together every year at this event in Vijfhuizen, The Netherlands. At the IFTF you will also find new products, ideas, tools, and supplies. Gain new inspiration here and after your visit, you will be completely up-to-date with floriculture.
This year's IFTF takes place from November 6th till November 8th at Expo Haarlemmermeer in Vijfhuizen. For more information visit www.hppexhibitions.com/iftf/
Trade Fair Aalsmeer, The Netherlands
Organized by Royal FloraHolland, the Trade Fair Aalsmeer is the place for product launches, demos, sustainable developments and all that surrounded by a range of colors and smells. Are you curious about the latest developments in the floriculture industry? Then visit the Trade Fair Aalsmeer 2019!
For more information visit www.events.royalfloraholland.com/tradefairaalsmeer
International Floriculture Trade Expo, Kenya
The International Floriculture Trade Expo (IFTEX), staged annually at Visa Oshwal in Nairobi Kenya, is a sell-out success story. IFTEX is the leading global event for the Floriculture industry, presenting a diverse range of flowers grown in Kenya. The IFTEX show echoes the broad range of quality cut flowers from Kenya targeting different markets. With buyers attending from all over the world and exhibitors representing all the different sectors in the flower industry, the show is a must attend. The industry is looking forward to the upcoming 8th edition, scheduled to take place from 5th to 7th June 2019.
For more information visit www.hppexhibitions.com/iftex/
World Floral Expo, United States
World Floral Expo is a trade show that offers a platform especially for growers, where they can introduce and present their very best export products to the US flower buyers. With to date almost 75 exhibiting floral companies from Ecuador, Kenya, Colombia, Holland, Canada, but as well as from the USA itself, it promises to be a very interesting trade show for the flower buyers. A unique chance to see and source fresh flowers grown on different continents, such as Africa, European, South America, and North America. Besides fresh flowers also many related dry floral products will be on display as well.
The World Floral Expo 2019 will be held from March 20-22 in Dallas, Texas. For more information visit www.hppexhibitions.com/wfe/
IPM ESSEN, Germany
From January 22 to 25, 2019, around 1,600 exhibitors from nearly 50 countries and experts from all over the world made IPM ESSEN the number-one information and ordering platform in the green sector. The range on offer was comprehensive and unique: The numerous innovations and solutions of the exhibitors addressed the entire green value-added chain. From producing horticulture via garden center operators, horticulturalists and landscapers right up to florists – for all of them, a visit to Messe Essen offered valuable suggestions, new products and a lot of things worth knowing for their business.
Next year's IPM will take place from January 28-31 in Essen, Germany. For more information visit www.ipm-essen.de/world-trade-fair/
Floralies Nantes, France
From May 8th to 19th 2019, visitors are encouraged to explore, alongside the Erdre river, the ornamental sceneries imagined and created by passionate professionals and amateurs coming from France and all over the world.
The event lasts twelve days, during which the Parc de la Beaujoire alleys truly transform into a splendid and breathtaking ephemeral garden. In this unique setting, visitors are invited to discover floral artworks of an outstanding level that will contribute to amaze them, transport them to another world and fill their heads with dreams.
FlorEcuador
Flor Ecuador was born 25 years ago with the mission of representing the Ecuadorian flower industry and meet the needs of partners, through fast and effective services that help them generate added value in business, framed in social and environmental standards.
For more information visit www.florecuador.com
Christmasworld, Germany
Christmasworld is the world's biggest trend and order platform for the international seasonal and festive decoration sector – and therefore the perfect B2B trade fair for a great start to the new business season. Christmasworld in Frankfurt am Main brings together manufacturers and retailers, as well as major commercial buyers from all over the world.
The leading international trade fair for seasonal and festive decorations focuses on the busiest and most emotional time of the year. Simultaneously, it reveals the potential offered by seasonal decorations as supplementary driving forces for sales.
For more information visit www.christmasworld.messefrankfurt.com/frankfurt/en.html