Ah, yes. Barn weddings are definitely one of my personal favorites. And with Autumn literally around the corner (in the Northern Hemisphere at least), it is time to remove our feet from the sand and put on boots and coats in search of warmer wedding venues. I've been told that it takes some serious skills to plan one, but how can you say no to the rustic feel, the beautiful countryside surroundings and the with love perfumed air (or were it the roses?) of barn weddings? Somehow, the roses look even more beautiful than ever at barn weddings!
Photo via Mod Wedding
Wine barrel bouquets are an amazing idea for barn weddings.
Photo via Cool Diy Ideas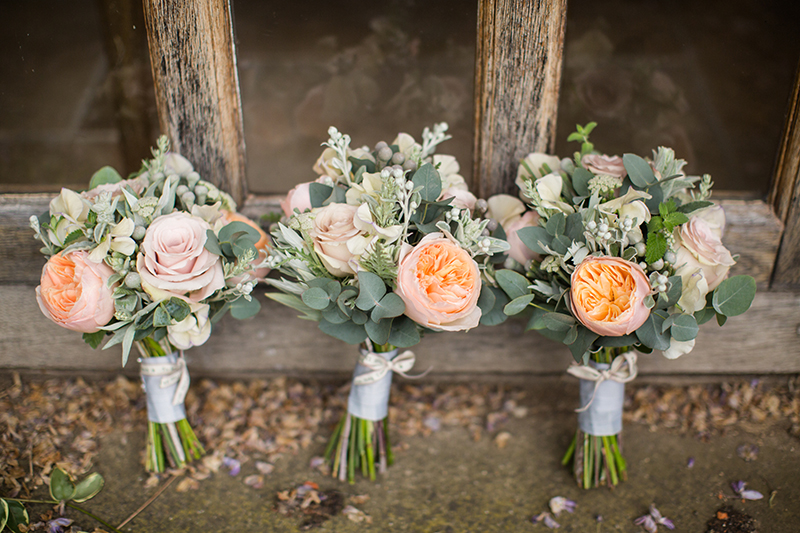 Lovely bridesmaids bouquets with the David Austin Wedding Rose 'Juliet'.
Location The Tythe Barn.

Colorful and wild with messy greens. This bouquet incorporated vibrant peonies, garden roses,
thistles, ranunculus, roses, astilbes and dahlias with messy greenery.
Photo via The Knot.
Such a romantic venue! When you want to maintain that rustic, romantic
atmosphere, the amazingly scented Peony Pink is the rose to go for.
Photo via Deer Pearl Flowers.
This cake only needs a Yves Piaget rose, and then…perfection!
Photo via Weddingomania.
For the ones who like it different. Macarons instead of a wedding cake!
With lovely pink and blush roses like Juliet. Pink O'Hara Roses and
Princesse  Charlene de Monaco Roses would also be perfectly suitable.
Baking Chick, Photography ~ Naomi Kenton via Rock My Wedding
Gorgeous table pieces with roses. Great idea for rustic barn weddings.
By Rustic Wedding Chic.
Lovely way to turn a milk churn into an eyecatching floral arrangement!
By The Tythe Barn.
Beautiful rustic centerpiece. A Cafe Latte rose would definitely
strengthen a centerpiece like this.
Wonderful idea for a backdrop with mason jars functioning as flower vases.
Source: Rebecca Arthurs via Destination Weddings & Honeymoons.
Flowers in tin cans! Amazing idea for barn weddings 😀
For more tin can ideas, visit Deer Pearl Flowers.
Beautiful backdrop with roses. Great idea for garden and barn weddings.
By Rustic Wedding Chic.
Stunning wedding bouquet with Callas,  Juliet Roses and Peonies.
Photography: Lauren Peele Photography // Flowers: Kate Foley
Cliché? Perhaps. Gorgeous? Definitely!
By Woman Getting Married.
via Wedding Wire
I hope you enjoyed reading this article as much as I did researching and writing it! For more suitable roses to fit a barn wedding theme, just look around on our assortment page. If you have any questions, don't hesitate to ask us on Facebook or via email at [email protected]. We're happy to help!