We are delighted to share this gorgeous wedding shoot designed by the team at David Austin Wedding Roses and featuring one of their newest off-white garden roses Leonora. She is a natural beauty and since the release of Leonora in 2019, she really has taken the floral world by storm.  We are very fortunate to source this exquisite rose all year round from our farms in South America and Kenya.  Wedding rose Leonora is part of one of the beautiful roses in our full David Austin collection 
Wedding at the Sky Garden – London
As the world slowly starts to awaken after the Covid-19 restrictions start to lift, we are seeing more and more weddings take place. However, we have noticed many wedding parties are keeping their guest list numbers low and choosing more unique wedding venues.  Which is why the venue for this shoot is just perfect, can you imagine having your wedding breakfast at the Sky Garden with 360-degree sensational views of London.  To top off the views you are  surrounded by the delicate scent of hundreds of garden roses.
So much thought and attention has gone into this wedding from the bespoke stationary which includes hand drawn outlines of Leonora and there is a little touch of fun with 'nod' to London by the bride arriving in a London Black Cab.
There's a subtle elegance to this day, the dress, the shoes, the table settings are all very understated, yet you can just tell. 'If you know, you know'. Even the flowers, at a glance initially look quite simple yet at a closer glance you realise the urns are overflowing with the exquisite Leonora Garden roses and the bouquet has been very skilfully designed to allow Leonora to take centre stage, yet the floral designer cleverly uses a touch of white lilac, green bell and viburnum to soften the overall look.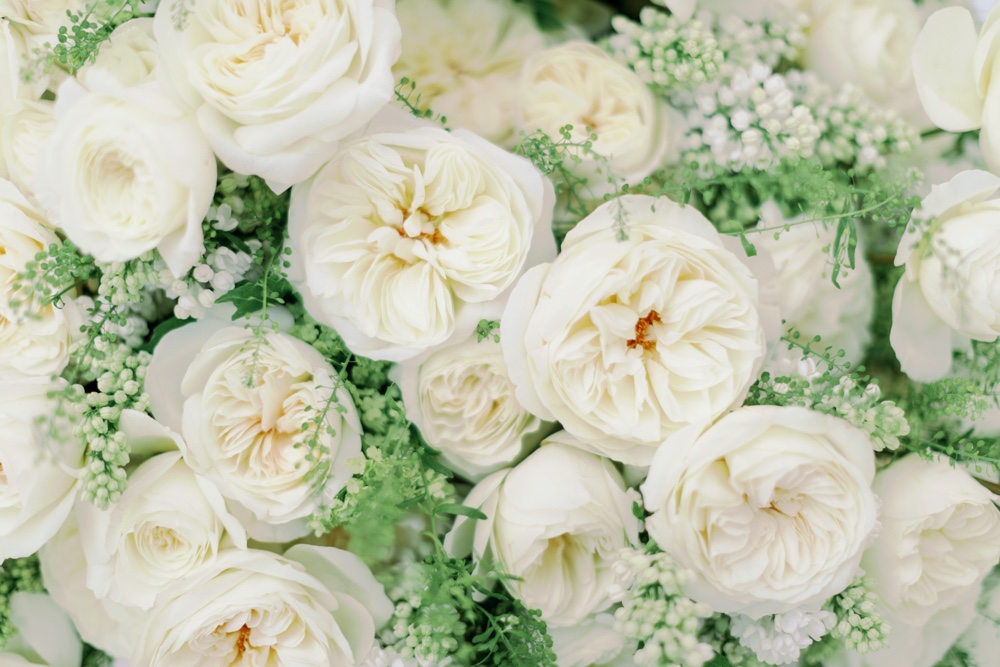 Where to buy wedding rose Leonora
We have noticed along with unique wedding venues the trend to have less guests yet spend more on flowers and venue dressing continues. There is also an increase in wedding parties knowing exactly what roses they want for their day and are now asking for roses by variety names, such as Leonora. This can make it more difficult for florists and wholesalers alike when there are shortages but overall, it is a positive as it is very easy to supply something specific rather than just a dream. As a team we have travelled the globe and spent the last ten years at Parfum Flower Company sourcing and testing various garden roses and only choosing best to add to our collection. Did you know we chose by either scent, shape or colour; however, they all do have something in common and that is they always be very special and unique. To learn where to buy our roses please follow this link Where to buy – Parfum Flower Company
We hope you enjoyed this read and you can take inspiration for your own unique wedding.
Be back soon, with some more interesting floral fun.
Cindy
Please see vendor details below…
VENDOR DETAILS Wedding Roses: David Austin Wedding Roses | Photography: Camilla J Hards Photography | Floral Design: Mary Jane Vaughan | Creative Direction: Kelly Sparkes | Bridal Gown: Suzanne Neville | Hair and Makeup: Botias Hair & Makeup | Wedding Stationery: Peonies and Paperclips | Bridal Shoes: Emmy London | Venue: Sky Garden | Event Rentals: Options Great Hire | Bride: Alana Wallace | Engagement ring and wedding band: Nevill Argyle